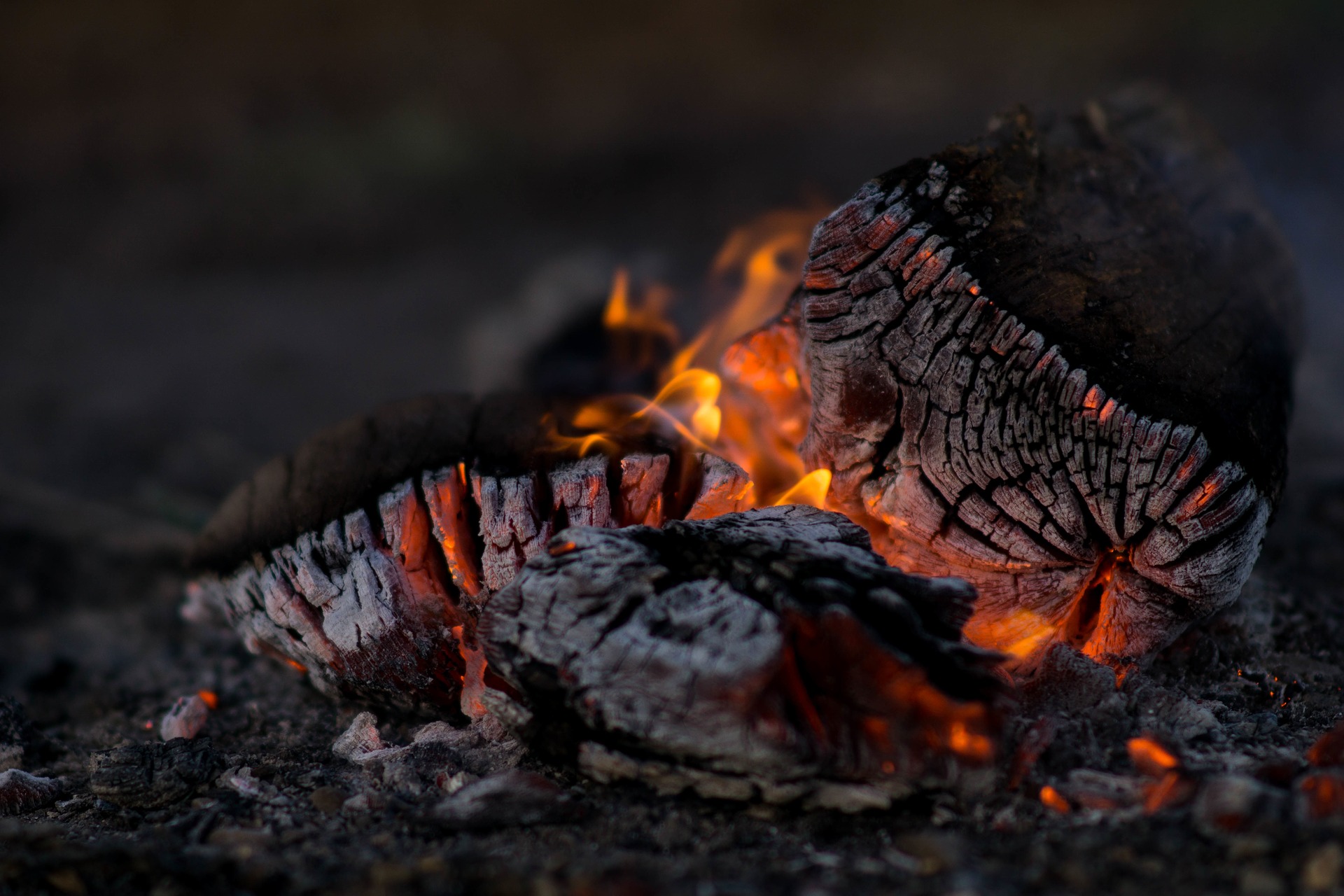 Learning to Light Fires
Maria Griffin
Sits in dining room, listening. Looks through open glass doors into loungeroom. Fire blazes in stove. Elderly parents sit in armchairs, watching a DVD about Ireland. Gliding across TV screen: Irish castles, Irish rivers, Irish landscapes. Playing in ears: John Hopkins, Everything is Connected. Thinks: a life in fast motion might sound like this - opening gently, bursting into an insistent beat as if driven forward by the busy-ness that carries it relentlessly through decades, then - slowing, fading….silence.
An aerial sweep over green Irish fields. Flames blazing in the fire. Parents silent, transfixed. 7pm on a Sunday night. Early June. Winter. The ending of a weekend. The ending of a life.
*
Learning to light fires. Piling up kindling, breaking off pieces of firelighter, shoving them underneath. Striking a match, reaching in to set the flames going. Putting the splintery pieces of wood on angles to facilitate airflow. Making tiny adjustments to the up/down lever, to control the flow of air. Realising, gradually, all the glowing embers need is a bit of fuel, a bit of air, and then, to be left alone. They don't need to be prodded, poked at, moved around, smothered with more wood. Opening the wood stove door and poking at the fire anyway. Sometimes because it's satisfying to prod the burning logs and see them break into glowing lumps of charcoal. Sometimes because it's something to do.
*
Embers still glowing one morning when I rise at eight. No firelighter required, just kindling, carefully placed, then gently raising the lever, letting air rouse the embers into life. My mother, asleep in her armchair a few feet away, mouth sunken, as she has no teeth in. Her walking stick hangs off the chair's arm. The sun above the horizon, yellow and cold. The loungeroom I've known since I was four years old. My father, who soon won't be here, will rise in half an hour and struggle, on a walking frame, to the kitchen. Later, from his armchair, he'll tell me again what the fan setting on the stove is for.
*
On a cold, still day, it's like living in a Walter Withers painting. Outside the window, the world is soft, misty, scrubby, gnarly, sage green, soft grey, and brown. Colours have texture and density. Thin, grey branches covered in orange lichen point long, withered arms at the sky. From an abandoned chicken coop, two small, scrubby trees explode; sinister tree-hands with long, curly fingers flailing everywhere, like monsters in a child's drawing. A thin oak clings to a few orange leaves – less today than it had yesterday. In two weeks, when I will next take notice, it will be bare, like all the other stripped, grey skeletons standing around it. Everything is changing, every moment, out there, and in here, where my father sits all day in his armchair, advancing along an invisible journey that requires all his energy.
*
What even is a house, when a body inside it is dying? When its walls are so thin that the thudding of drawers closing in the bathroom wakes you in the night?
*
Sits in dining room, listening. Saturday. 5pm. Almost the shortest day of the year. In the East, the clouds are already pink-and-lavender waves, curling along the horizon. At this time each day, white cockatoos fly across town. Alone, or in twos or threes, or frenetic flocks of twenty or thirty, they flap overhead, squawking and bleating, and settle in a tree down by the creek, or up behind the church. They sit a while, then take off again, fussily trying trees all over town, or so it seems from the dining room window. The sun sinks. Colour drains from everything; imperceptibly at first, then I can see it going. Everything is dim and dusk-tinted. In the sky, a cluster of white dots hovers, magically: cockatoos, perched in willows by the creek. The willow branches invisible, blending into all the brown scrubbiness between us. Two red lights move slowly up the hill, turn a corner, disappear. The sky now an inky, glowing backdrop above dark, earth-bound things. Objects merge and lose specificity; the scrubbiness of branches can no longer be seen or felt and must simply be remembered, or believed in, until morning.
*
What even is a day? I enter my parents' kitchen at 7.04am, pull up the blind. Below lies the town – shadowy, formless, speckled with lights. Angry, night-coloured clouds crowd together in a pale sky. The sun still hidden below the horizon. An hour later, my father pushes open the sliding door, as he has done so many times before. It's strange, at first. Yet as familiar as if I was never not here.
*
One night, soon, I'll stop in the cold part of the house and wonder how it feels, to lie in bed and hear family members padding to the bathroom, shutting the door, sitting down, peeing in the toilet. The sudden burst of noise when the toilet flushes and water gushes through the pipes. How it feels, when you could do those things yourself a day ago - but cannot, now, and never will again.
*
What even is a house? An oversized architect's model, a floorplan with walls. Somewhere inside its flimsy, make-believe structures, a life-sized person lies, dying.
*
Sits in dining room, listening. Fridge in kitchen rattles, groans, grinds into sudden silence. Outside, the afternoon light is gauzy. Rain falls silently; a cold, barely moving mist. The only sound is the clicking of the keyboard. Then, a crow caws three times. A blackbird trills as it lands on wet grass. The air is still, there is no wind.
*
Mornings, or afternoons, when the dishes are done and the kitchen is tidied, and there are no doctors or hospice nurses, relatives, friends, priests or nuns requiring cups of tea and biscuits or my hovering presence at the appointment, no phone calls to aged care services or clinical labs or hospitals to make, no prescriptions to collect and it's not raining, I leave the house and walk around the town. I discover that I have no sense of its geography, its size, or its complexity. When I was young, that held no interest, and I left as soon as I could. In his old age, my father walked all over this town. Now, in this strange, indefinite pause, I'll do it.
*
The first few times, I take routes my father recommends. One cold, sunny morning, I head along Hyde Park Road. It goes on for ages, much further than I expected, curving around and around. By the time it finally intersects with another street, I have no sense of which way to turn and can't recall my father's instructions. I hadn't listened carefully. I expected to see Spring Mount from anywhere I went - forgetting that what you can see depends on where you are. I walk downhill from my parents' house and other, gentler hills rise up and hide the mountain from my sight.
*
Another day, I walk down the hill, along the main street, over the bridge across the creek, and up the hill on the other side. There, I stop and look across town at my parents' house. I pretend I'm a stranger, glancing incuriously at a house on a hill, as small as my fingernail. Morning sun gleams on white weatherboards. The windows are grey squares that reveal nothing. Nothing signals that inside those white walls, a person - inhabitant of the house and the town for nearly fifty years - is dying.
*
After rain one morning, I set out on a route of my own devising. I trudge along wet grass next to the highway, and turn up White Hills Road, which, I soon realise, leads into bush. I have no phone, no GPS, so I turn again, where the bush begins, and walk along a street named Gardiner, though it's not clear if Gardiner Street leads back towards town, or peels around into the bush, or becomes a dead end.
*
It was so silent, so private, walking there that day, that I thought, if I'm ever going to try running, this is where I could try it, so I ran for a while. On and off, in intervals, I ran all the way home. I don't usually run, but to my surprise it was enjoyable, almost desirable. To push a bit harder, to feel myself working hard, to make an effort; a bigger effort than walking requires. Maybe what I really wanted was to do something difficult. Or, something out of the ordinary. There is, after all, nothing ordinary about this situation. I'm temporarily living in my childhood home, during a lockdown; waiting for the death of my father.
*
It surprises me daily: how close the town is! The red brick of the pub, the round, black and white sign, lit up above it. The town hall tower. The roof of the building where I held my first job. There must have been more trees when I was a kid, blocking the view. Or a blinding lack of interest on my part, performing the same function. The centre of town didn't feel close in those days. And those days never felt so close, yet simultaneously so far away, as they do right now.
*
Look again. It's dark. Streetlights are glowing orange. The hotel sign is lit. Cockatoos are settling noisily in the trees. This little world is comprised of so much I never noticed when I lived here, or in all the years until now. Now, in this moment that's really a blur of many moments, etching themselves into my memory, even as I sit here, in the dining room, staring out the window. It's a Saturday night in June, my father is alive.