We have a variety of regular programs and events running for children of all ages. Storytime programs run during the school term. Keep an eye on our social media channels for up-to-date information regarding COVID-19. Where required, bookings can be made via our events page.
Join us for the BIG Summer Read, a statewide reading challenge for all public library members!
Join. Borrow. Play. Win! The BIG Summer Read starts Wednesday 1 December 2021 and registration is now open. Log your reading over summer to win prizes! To get started, download the Beanstack app or click here.
Outdoor Storytimes are back!
Pack your blankets, slap on a hat and slop on some sunscreen. Preschool Storytime, Toddler Time and Baby Rhyme Time are coming back to a park near you! We will recommence our outdoor storytime sessions across Moonee Valley from Monday 31 January.
Bookings are required and will open 24 hours in advance. You can view all times and locations here.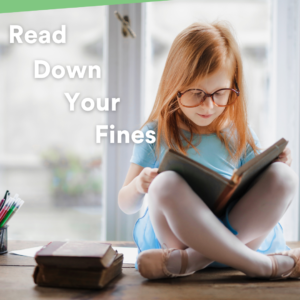 Read Down Your Fines
In January, people aged 5-18 years are invited to "read down your fines". For every half hour spent reading either at home or at the library, $2 will be deducted from any late fees on your account. Just let staff know when you start and finish reading!
Brain Buster Bags
Brain Buster Bags are here to stay! These are curated bags full of books based on your child's age group. Every bag is different and hand selected by our own librarians. Call your branch to ask for one ahead of your next visit! Also available for Contactless Collection.

For children 3-5 years. Children are introduced to a wide selection of picture books and stories and complete a craft activity. Storytime will help prepare your child for primary school, developing listening, reading and fine motor skills. Sessions run during the school term only.

For children 18 months to 3 years. Share stories, songs, rhymes and movement with your active toddler. Toddler Time is the perfect transition to storytime for your little one. Sessions run during the school term only.

For babies up to 18 months. Baby Rhyme Time introduces your little one to the sounds, rhythm and movement of language. Babies love songs and rhymes and delight in watching and listening to you sing.  Sessions run during the school term only.

Come to the library for afterschool fun that includes craft, chess, drawing, Lego, robots and more. Held during the school term for primary school aged children.
Stay tuned for upcoming dates.
Premiers' Reading Challenge

The Premiers' Reading Challenge is now open. It's a great initiative, inspiring children and young people to read more books. Students can log in and register. At its conclusion they will receive a certificate of achievement from the Premier of Victoria.
You can access full lists of PRC titles, by year level, on our catalogue.
For further information on how to meet the challenge please visit the Premiers' Reading Challenge website.

To improve reading and literacy skills in young children, we offer a book bag for every baby born in our city. Each Begin with Books bag contains a board book and information about the libraries. The bags are given to new parents by the Maternal and Child Health nurse at the four month visit.

Did you know reading just 10 minutes a day can instil a lifelong love of books and learning in young children? 1000 Books Before School is a new reading initiative that supports families to share stories with their children every day and encourage early reading habits. Parents and caregivers can register at their local branch to get started and receive a reading record and a special book bag. Rewards will be given for reaching each milestone. Please visit your local branch to register, or start tracking your child's reading right now by downloading this form.
For more information on the benefits of reading to your child from a young age, as well as other parenting information, visit the recommended sites below:

What do Junior Rangers do? Junior Rangers use their kits to explore and discover plants and animals! Drop into Sam Merrifield Library to collect your binoculars and other tools and head over to Queens Park to spot ducks, water hens, cockatoos, and even rainbow lorikeets, along with native plants such as the banksia and various eucalyptus species.
If you're a lone ranger you can print your own guide and map and embark on your adventure. If you have binoculars or a magnifying glass you can even build your own kit!
The Abercedarian Approach

Want to support your child on their reading journey, but don't know where to start? Check out this short parent guide with tips for shared reading: Abecedarian Approach Australia.