Hiring a library space
Moonee Valley City Council offers a range of community spaces for hire. This includes meeting rooms at four of our library branches: Sam Merrifield, Avondale Heights, Niddrie, and Flemington.
Fees and charges apply to room hire. See below for hire rates. Rooms must be booked at least two weeks in advance.
Our rooms vary in size and capacity. Some of our spaces are equipped with audio visual technology including projectors and smart TVs. Appropriate cables can be supplied by the library where required. 
Please note that it is not necessary to book a room for the purpose of individual study. If our spaces are not occupied by a hirer they are available to general library users. 
Bookings must be made via the link below. For general queries relating to library room bookings, please email libraryrooms@mvcc.vic.gov.au.
For further information and a full list of bookable Council spaces, including community halls and leisure facilities, please visit this page.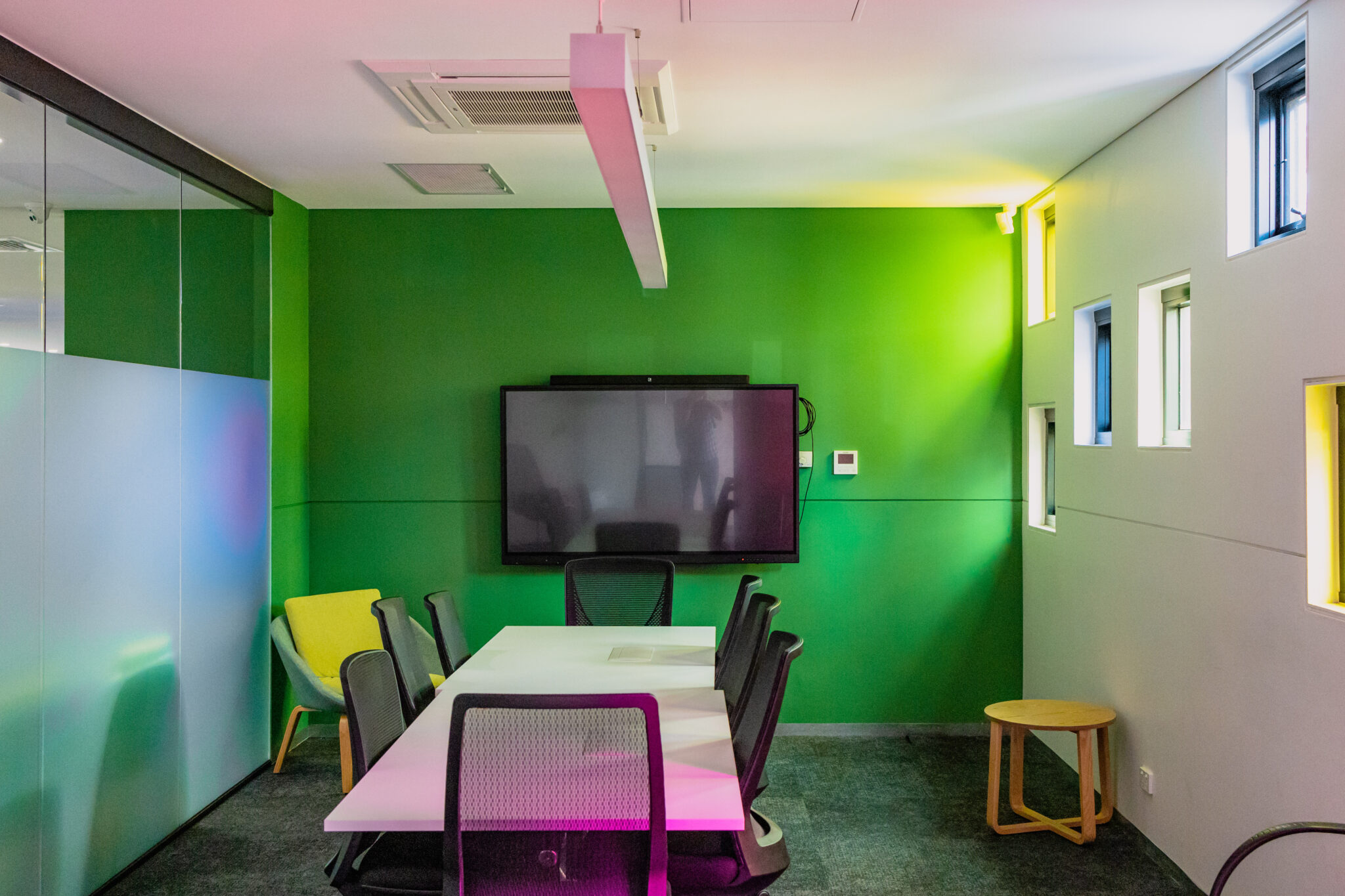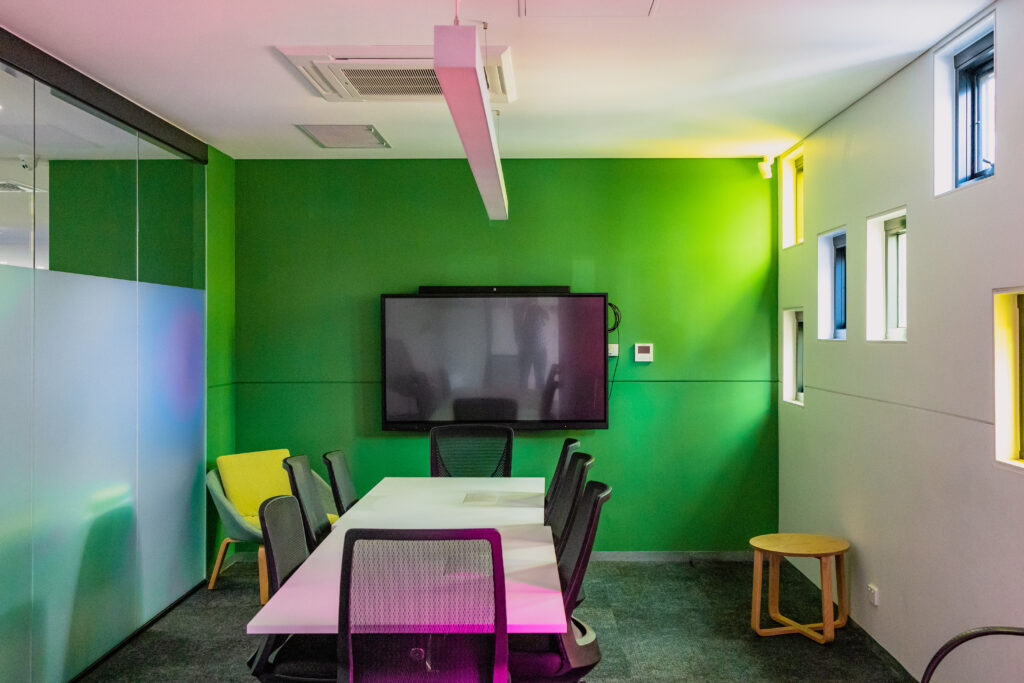 Based on nature of your group or activity you will be classified as one of the following and pay the respective hire rates:
Community groups - local not-for-profit community based groups and other organisations that provide services supporting the local community.
All other hirers - private hire, commercial and other income generating activities.
As outlined in the fees and charges schedule below, we will provide a subsidy on the standard room hire rate to all community groups.
A discount on the standard room hire rate may be available to regular hirers. A regular hirer is classified as making a minimum of six bookings per year.
Rooms less than 60m² are considered small rooms, these include library meeting rooms and class rooms at Flemington Community Centre.

Large rooms are bigger than 60m². In general, program rooms at community halls and neighbourhood centres are considered large rooms.
Regular Hire Rates

Casual Hire Rates
Location
Room Size
 
Capacity

Avondale Heights Library and Learning Centre
 
 
 

Dalak-dalak/Blue Devil (consulting room)

Small

 

4

Marram Banum/Kangaroo Grass (meeting room)

Small

 

10

Garrong/Wattle (training room 1)

Small

 

20

Binap/Manna Gum (training room 2)

Small

 

20

Training rooms 1 & 2 combined

Large

 

40-50

 
 
Niddrie Library
 
 
 

Wy-krook Bagungbul/Small Gatherings (meeting room)

Small

 

12

 
 
 
 
Sam Merrifield Library (Moonee Ponds)
 
 
 

Umalek/Give (meeting room 1)

Small

 

20

Djerring/Collaborate (meeting room 2)

Small

 

20

Djerri/Together (meeting rooms 1 & 2 combined)

Large

 

40-80

Nuringian/Quiet (meeting room 3) 

Small

 

15

Dhumnya/Conversation (meeting room 4) 

Small

 

4
Laptops are available at Avondale Heights Library & Learning Centre to use for meeting room hirers only, at an hourly rate per laptop.
| Facility User Type | Cost per laptop per hour |   |   |   |
| --- | --- | --- | --- | --- |
| Community groups / not for profit | $1.15 |   |   |   |
| All other hirers | $2.70 |   |   |   |
Booking & Planning
Introduction
Moonee Valley City Council ("Council") provides the community with access to facilities to encourage social and physical activities. Council aims to ensure that a range of user groups and/or individuals have fair and equitable access to Council's community facilities.
Application for hire
All requests for Facility hire must be made using the appropriate application form.
The application form must be completed by the Hirer. Having submitted the application form the Hirer agrees to ensure compliance with the terms and conditions of use.
Upon receiving the application form, Council may at its discretion refuse to accept any application.
Any approval or denial of the application for hire will be given to the Hirer in writing by Council.
Council at its discretion and where appropriate may cancel an approved booking before or after payment is received by the due date. Where possible Council will provide the Hirer with adequate notice period of cancellation so they can make the necessary arrangements.
Municipal functions
Council reserves the right to cancel any booking at a facility when the same is required for Council functions, Government elections and as required under the Municipal Emergency Plan and notwithstanding that the facility may have been accepted and signed and the hire fee paid.
Fees and Charges
Fees and charges for Facilities are set annually by Council. All fees charged contribute to the cost involved in operating the Facilities including utilities, cleaning and maintenance.
Permitted Uses
Ways that the Community can use the facilities include (but are not limited to):-
• Community activities
• Fundraising events
• Information sessions
• Educational activities
• Commercial activities of community benefit
• Children's birthday parties up to 12 years old (Permitted in Community Halls Only)
Appropriate permits and written approval from Council are required for the following:-
• Vendors or sale of any goods, including food and beverages
• Gas or electrical cooking appliances, open flame cookers e.g. spit roast cookers
• Gambling
• Vehicle access to parks and reserves (where applicable)
Council may request that the Hirer provides Products and Public Liability insurances for any of the above listed activities (including any service provider that the Hirer utilises to provide goods or services during the period of hire e.g. entertainment).
The following activities are not permitted in council facilities:
• Smoking is not permitted within the facility, within 10 metres of a playground or within 4 metres of any council building.
• Illegal substances
• Advertising of any kind. Personal 'A frames' can be used when activities are running but must be placed in a safe area and be packed away after your event.
• Animals or animal farms
• Loose helium balloons
Alcohol is not permitted in the following dry zone facilities:-
- Crown Street Stables
- Flemington Community Centre
- Libraries
All booking requests will be assessed on an individual basis.
Subletting and assignment
The whole or portions of the facility are not to be sub-let, assign, nor bookings transferred by the Hirer without the written permission of the Council.
Vehicle Access and Parking
Vehicle access to service entry points is restricted to loading or unloading of goods. The standard venue parking restrictions apply and no special considerations are given to the Hirer or guests. Anyone parking in restricted areas are liable for the payment of fines. Hirers are to be aware of special events in the municipality throughout the year where parking restrictions may change.
Facility Use
Facility Access
Under no circumstances is the Hirer to access the Facility other than for the approved use and time.
If a Hirer is found to have entered the building earlier or stayed later than their allocated time they may be charged for the additional hours in the building. Lost or damaged keys or electronic access cards will also incur a fee. Some Council Facilities require key access, whereas others are installed with an electronic lock system and as such require access to be gained with an electronic card. Any key or swipe card issued to the Hirer is to remain in control of the Hirer and is not to be transferred to any other party.
Set up
It is strictly forbidden for any person to use screws, nails, tacks, adhesive fasteners (including masking tape) or other attachments in/on any part of the floors, walls or ceiling of any building
All consumables and cleaning items are to be provided by the Hirer.
Kitchen access is included in rental (where applicable). Hirers are to provide their own refreshments, crockery, cutlery, pans etc. Hirers cannot store food at the venue before or after their booking.
Pack down
The Hirer is responsible for leaving the building in a clean and tidy condition and all furniture and equipment left in the condition it was found. A condition report will be supplied with the electronic card upon collection. The Hirer is responsible for locking all doors and activating the alarm system (where applicable) at the end of the booking.
Council may charge the Hirer clean-up cost if the hired facility is left in an unsatisfactory condition.
Emergency Contacts
In the case of an emergency call 000, then contact Council on 9243 8888. A call out fee may be charged should Council deem the call out not an emergency. An incident report will be provided to the Hirer from MVCC and should be returned to Council within 24 hours.
Claims
The Hirer shall be responsible for any accident, loss or damage, or any injury sustained by any persons using any part of a facility and equipment during the period of hiring. Any equipment or articles brought onto the premises by the Hirer are on the premises at the Hirer's own risk. Notwithstanding any Council's legal liability under the Hire agreement.
The Hirer and/or approved contractor is responsible for workers' compensation or similar insurance over their servants or voluntary workers and for all insurance coverage on goods and services they cause to be brought onto the venue. Council will not be held liable for goods or services owned by the Hirer.
Disputes
In the event of any dispute or differences arising as to the interpretation of these conditions, or of any other matter contained therein, the decision of the Council therein shall be final.
Damage
All breakages and damage must be reported promptly to Council so that repairs can be made. Compensation for damage will be required.
A post event audit of the Facility will be conducted. In the event that the Facility is found either damaged or in an untidy condition a fee will be charged to the Hirer to restore the Facility.
Obstructions
The hirer shall comply in every respect with all Acts and Regulations with regard to public buildings, for the prevention of overcrowding and obstruction. Any person causing an offence against such regulations shall be removed from the building and a penalty may be incurred.
Theft / vandalism
Neither Council nor its representatives shall be liable for any loss or damage sustained. Should a Hirer or other person attending the booking be caught vandalising property, they will be banned and the Hirer is to cover all costs.
Accountability
The Hirer shall ensure the actions or inaction of users of the facilities do not breach Council's Property Insurance policy conditions.
The Hirer shall minimise realistic property risk exposures by promptly reporting damage and hazards to Council.
The Hirer shall allow access to the facility by Council (at any time) for bona fide purposes e.g. Maintenance/risk management inspections.
Legal and Other Requirements
Accepted behaviour
Hirers must be over 18 years of age.
Where functions are attended by minors the Hirer will be the person responsible for actively supervising the function. No obscene, insulting language or disorderly behaviour shall take place in or around the facility. The Hirer shall direct guests to leave in a quiet and orderly manner.
Noise
Amplified music and public address systems must not be audible outside the building and are not permitted for use under any circumstance outside the below times in accordance with the Environmental Protection Residential Noise Regulations 2008:
• Monday to Thursday 7am to 10pm
• Friday 7 am to 11pm
• Saturday and public holidays 9am to 11pm
• Sunday 9am to 10pm
Booking cancellation or changes and refund policy
The Hirer must give a minimum of ten working days notice to cancel the booking. If less than ten working days notice is given, then hire fees will be retained.
Cancellations with more than ten working days notice will be refunded less an administration charge (current one hour hire rate).
Privacy
The personal information requested on the application form is collected by Council for reference and identification, mailing purposes, or related and municipal purposes as specified in the Local Government Act 1989. Council may disclose this information if required by legislation.
Council is committed to full compliance with its obligations under the Privacy and Data Protection Act 2014. In particular, Council will comply with the Information Privacy Principles contained in the Act. Council's Privacy Policy explains some of these Principles and how they may apply to the Hirer.
The Hirer understands that the personal information provided is for the above purpose and that they may apply to Council for access to and/or amendment of the information subject to the Privacy Policy. Requests for access and/or correction should be made to Council in writing.
Protection of children from abuse
Hirers must comply with the Child Wellbeing and Safety Amendment (Child Safe Standards) Act 2015.
Child Safe Standards were introduced by the Victorian Government in 2015. The Child Safe Standards are compulsory for all organisations providing services to children. Council supports the safety of all children in our community and everyone is responsible for the care and protection of children and reporting information about child abuse.
For further information: http://ccyp.vic.gov.au/downloads/creating-a-childsafe-organisation-guide.pdf
Accessibility
Council expects any community group or individual entering into an agreement for the use of a council facility ("Hirer") to respect and comply with the following guidelines:
• Equal Opportunity Act 2010 (Victoria)
• The Victorian Charter of Human Rights and Responsibilities Act 2006 (Victoria)
• Racial Discrimination Act 1975 (Commonwealth)
• Sex Discrimination Act 1984 (Commonwealth)
• Disability Discrimination Act 1992 (Commonwealth)
• Racial and Religious Tolerance Act 2001 (Victoria)
Indemnity
The Hirer agrees to abide by all conditions of use and to indemnify, keep indemnified and hold harmless the Council and its Representatives from and against loss of, or damage to, any property of the Council and any liability to any person or any claim by any person against the Council or its Representatives in respect of personal injury or death or loss of, or damage to, any property arising out of, as a consequence of, or in connection with the use of the facility as stated on the application form.
Public Liability Insurance
The Hirer must, at all times while conducting the activities under this agreement be the holder of a public liability insurance policy for an appropriate amount in respect of any one occurrence.
The Public and Products Liability Insurance must cover the Hirer in respect of liability to the Council and third parties in respect of any claim for loss of or damage to property or death or injury to any person arising from the acts or omissions of the Hirer, in the course of, or in connection with the hire of the premises.
The Hirer must provide a certificate of currency for the Public and Products Liability Insurance to the Council at the time of lodging the application form and adequate cover shall be retained by the Hirer so long as the facility is on hire.
In the event a claim is made, Council will provide the relevant details to allow the Hirer to work directly with the insurer to process the claim. Council will not be involved except for providing these details.
Individuals or groups can source Public Liability (PL) Insurance through Council or obtain their own PL cover by contacting:
- Local Community Insurance Services - https://www.localcommunityinsurance.com.au/
- Not For Profit Insurance Brokers - http://nfpib.com.au/
- Or any Public and Products Liability insurance provider they deemed appropriate.
Note: Council does not endorse any of the above mentioned insurance providers
Note: For the majority of hire activities it is compulsory for the Hirer to provide Council with evidence of valid Product and Public Liability Insurance. There may be exceptional circumstances where insurance is not required. Casual venue hire for general meetings of an administrative nature (with no heavy equipment) do not need to hold public liability cover due to low risk nature of activity.
Council has full discretion to assess the activity and associated risks and stipulate whether Product and Public Liability insurance is required before approving the hire application.